Inside LA's fight to save inmates from COVID-19
Life and death are at stake for incarcerated people facing COVID-19
From Philadelphia to Connecticut and across the country, advocates are organizing for the mass release of incarcerated people through car rallies The Des caught up with Kim McGill, an organizer based in L.A., about the city's own "Car Crush" last week.
"These [jails and prisons] are already breeding grounds for epidemics, and once COVID-19 starts to spread in a serious way it's going to be very devastating inside," she said. The Justice Coalition believes the inaction of officials by neglect or intent in Los Angeles County is creating the risk of serious health issues and death.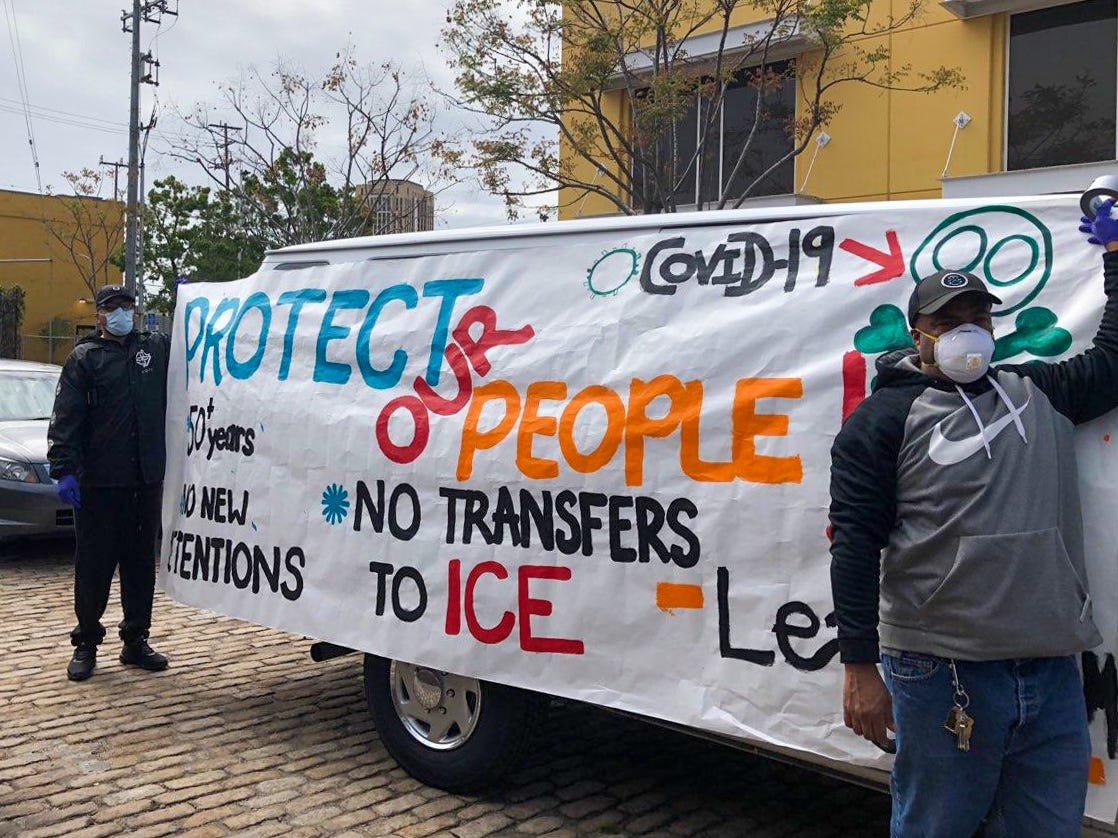 Photo @YouthJusticeLA
On April 7, over 150 cars surrounded the courthouse and district attorney's office to push officials to release people. The car march was an escalation by the Youth Justice Coalition after a slow response to the demands of a Mar. 16 letter signed by over 80 organizations. The letter listed demands from early releases to free access to masks and phone calls.
Almost 2000 people were released from the county jail system in the last two weeks, according to McGill. The L.A. County Board of Education has also voiced support.
Families are facing desperation. McGill compared it to Americans alone at home unable to see grandparents, but "[i]magine if that loved one was inside a cage ." The rally provided a way for people impacted by the justice system to come together.
"L.A. County has the largest jail system, the largest juvenile hall system, largest court system [and] the largest sheriff's and probation department in the world. So to start to throw a wrench into the largest martial system in the world, I think made people feel really powerful and and really united that day."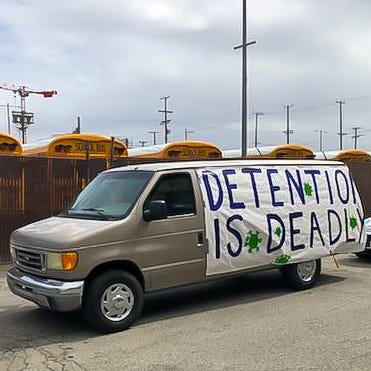 Photo @YouthJusticeLA
The conditions inside prisons across the country deteriorate as facilities confront the pandemic. In the L.A. county jail, inmates are on a 24-hour lock down with showers every three days, according to an inmate. People are eating meals in cells which house up to six people with no masks, disinfectant, sanitizer or additional hygiene products. Youth are being held in similar conditions with no reading or writing material.
East coast prisons have begun to see large infections of COVID-19 inside, but California has only a few. McGill fears the worst is inevitable. "If we don't act quickly, we're very concerned that it will lead to the preventable deaths of dozens if not hundreds of people."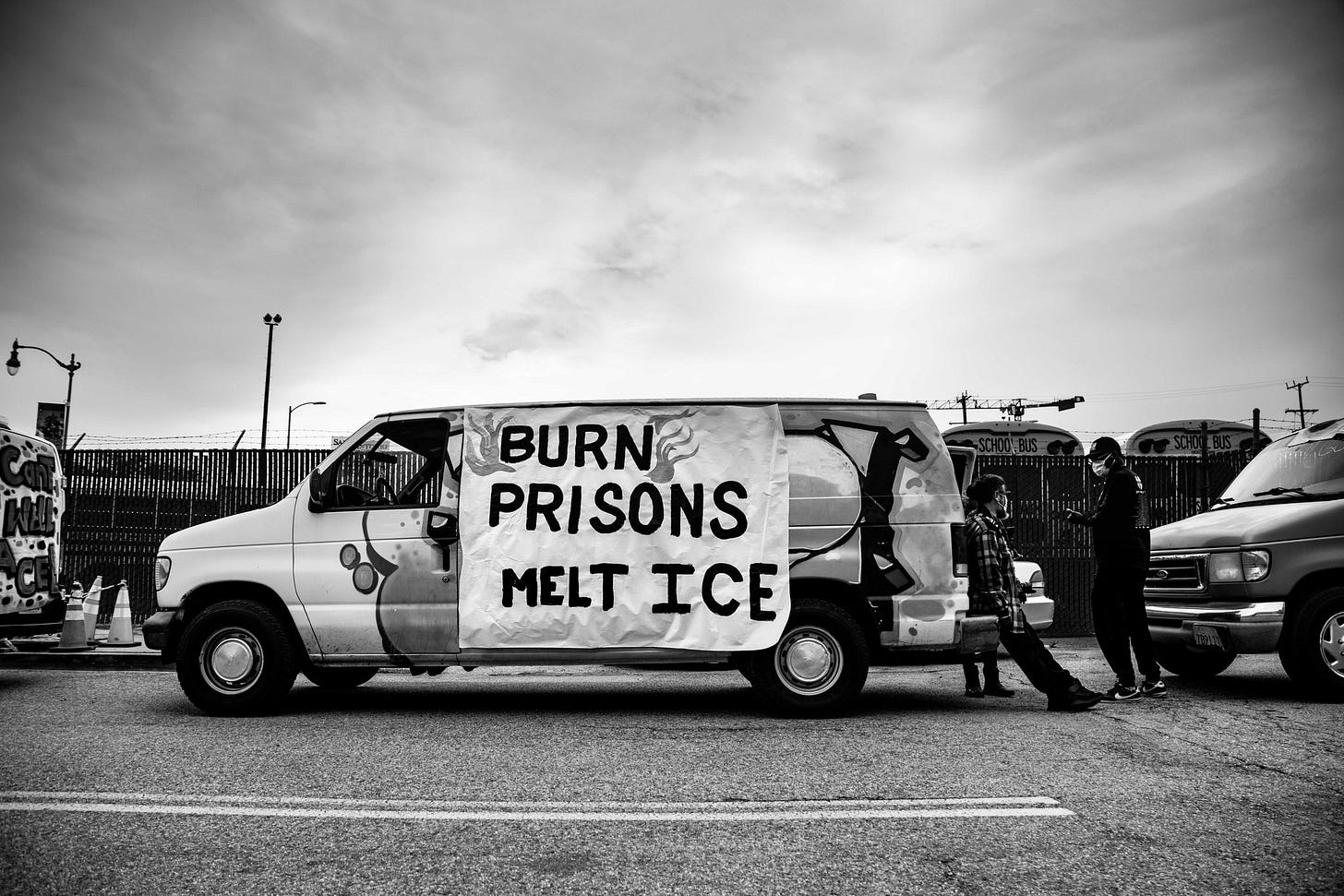 Photo @YouthJusticeLA
The racial disparities already present in COVID-19 cases due to institutional racism will show up behind bars too. The county's jail and juvenile hall are filled mostly by people of color who often lack access to quality healthcare. This causes underlying health conditions that increase susceptibility. "So to have an epidemic spread through a lock up is particularly devastating," McGill said.
"You can imagine how scary it is to die in a hospital where we don't have access to your family members. But at least you're surrounded by health professionals, and you're getting relatively good care.

Imagine dying in a jail cell where you can't even speak to your family members. And where there are no health professionals around you, where the likelihood of you getting transferred to a hospital is practically nothing. Imagine dying like that. Imagine being unable to breathe in the middle of the night in a locked cell, and your cell mates are pounding on the door to get sheriff's deputies or probation officers to respond.

And that's how you die. That's the kind of death that people could experience and are probably already experiencing in other parts of the country. And no one should die like that. And we can prevent it."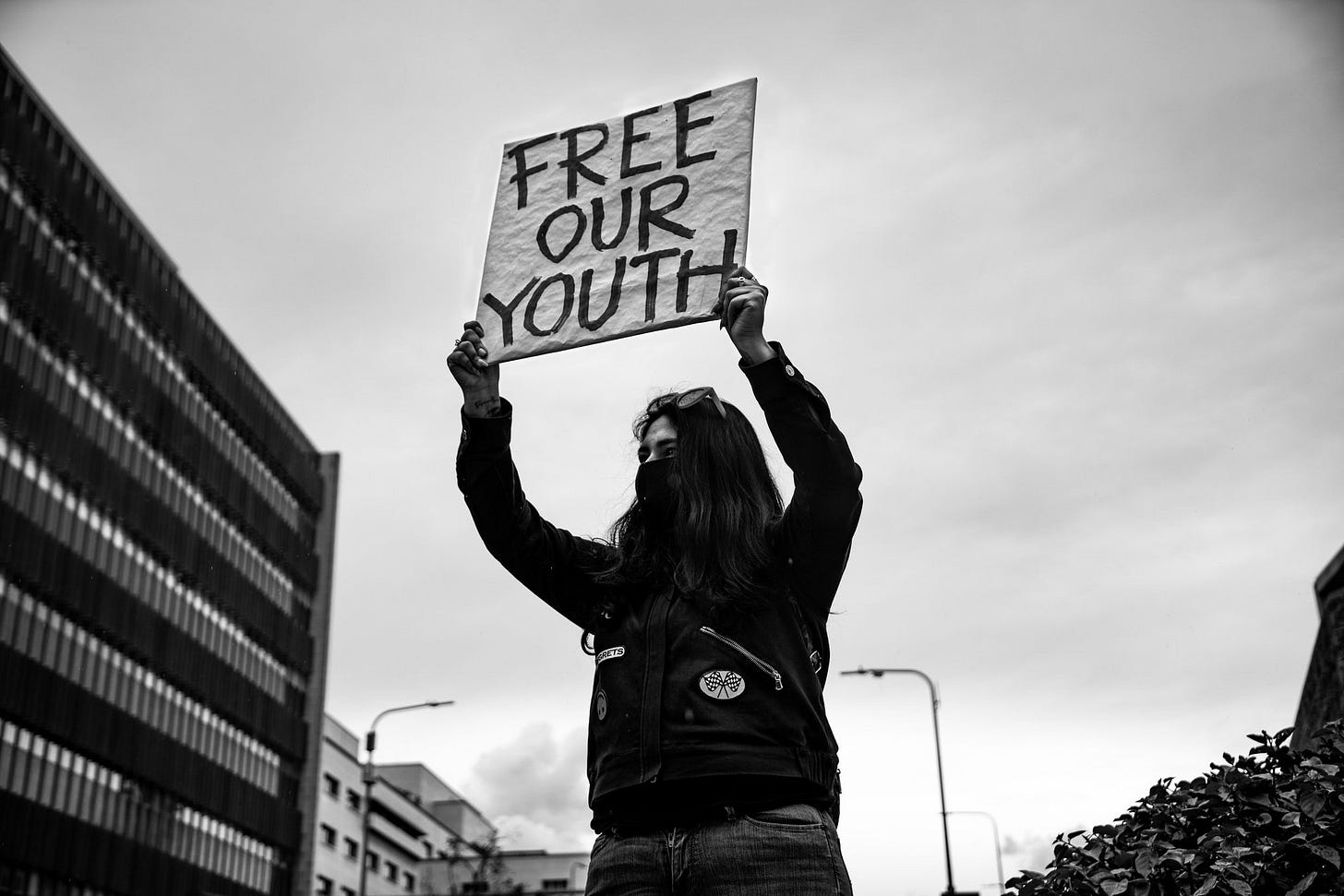 Photo @YouthJusticeLA
---
A mother whose son is held in Barry J. Nidorf Juvenile Hall in Sylmar, California, said one of the families' first concerns was cancellation of visits. She's only received one call a week from her son despite promises of free calls. Some youth have no contact, and families haven't seen children because of postponed or canceled court hearings.
"Parents' anxiety is so bad that people are panicking with every phone call," she said in a statement provided by the Youth Justice Coalition. Read more below [edited for clarity].
"In the compound, the youth are also locked in their cells for hours each afternoon which I think is a violation of state law. They are getting some educational packets, but my son has little to occupy his time and his mind. 

I spoke with a parent whose son is at the same juvenile hall, and she said that he's going crazy along with other kids in there because they have nothing to [substitute] for not going to school.

We all see the news and hear rumors of staff testing positive, and 21 youth being under quarantine. We should be getting daily updates from probation and the Department of Health. But what we know, we get from the news or rumors shared with us from our children inside. 

The youth have no masks and no disinfectant for their cells. They get hand sanitizer only if they ask staff and then only a few drops in their hand. They have to ask to use the bathroom and are often ignored. When cells are locked, sometimes people pee on their floor or into a sheet out of desperation. So regularly washing hands is not possible."
---
News (there's a lot)
STAGE FIVE: The Federal Bureau of Prisons announced that stage V of its COVID-19 response plan has been engaged. This means two weeks of isolation in cells, which may be extended. More details here.
Let us out: Inmates held in lock down and without basic sanitary access are staging riots and protests across the country in Washington and Kansas. As tensions rise, prison staff and inmates face the unprecedented issue of a lock down for an unknown time. [The Marshall Project]
Failure to respond: Oakdale federal prison faces the first major outbreak of COVID-19. Prison officials were ill-prepared and inmates weren't separated. Six inmates have died. The ACLU is suing for inmate releases.
Oakdale is a forecast of what many fear is coming to all prisons, detention centers, and jails.
Social media: An #ICARE4 campaign took to Twitter with family members voicing support for release.
Top Hot Spot: Over 1,300 confirmed COVID-19 cases are linked to Chicago's Cook County jail. [New York Times] Over 300 inmates tested positive, Nurses showed on Friday to pray and protest. Live data shows the jail population dropping while cases rise. The family of the first inmate to die sues, alleging violation of constitutional rights including being shackled to his bed while sick.
The spread from the jail is evidence of advocates' warnings that the treatment of incarcerated populations will exacerbate the spread of the virus.
Retaliation: Kansas inmate believes he was fired from prison job for speaking out about the coronavirus conditions. [The Kansas City Star]
Due process: Legal proceedings are being disrupted so people aren't getting out. [The Appeal] Alabama is reviewing a decision to cancel parole hearings in a state with a historic back log.
Production goes on: Factories staffed by inmates continued rolling as America shutdown. [The Marshall Project] Alabama inmates are making masks for the correctional system. [WAAY]
No leadership: No overarching guidance at the state level is creating a piecemeal response at the county level. This is causing even more uncertainty. [The Colorado Sun]
Key stories by state: Texas; Ohio; Louisiana; Montana; Oregon; District of Columbia; Mississippi; New York. All COVID-19 news tracked by The Marshall Project here.
---
KEY RESOURCES:
---
Non-virus News
Ablaze: A riot at a maximum security prison in Siberia was put down by Russian special-operation forces. [Radio Free Europe]

I-D: Alabama felons must carry special ID or can be sent to jail. [AL.com]
---
We're ending with Shaka Senghor's
Medium piece
and
Keith Lamar's interview
with suggestions from their time in solitary confinement for surviving isolation.
We want to hear from you about how COVID-19 is impacting you and the people connected to you. What is not being talked about? What story do you have that needs to be heard? Who do you want answers or explanations from? Please reach out to lj@dawsons.us.
---

---
The Des drops into your inbox weekly with a collection of small and digestible snippets concerning the criminal justice system. It promises to be humanizing, spunky, and educational. Our name: The Des is short for Desmoterion or "place of chains", used to describe prisons in ancient Athens. We like the idea of the chains because incarceration expands far beyond bars, connecting all of parts of this country. We are here to cover it all.